Update 1/4/2021: It still seems like they're sending random extra items with most of my orders. It's actually pretty rare for anything to be missing so I'm not sure if this is intentional or not? Overall it's kind of a nice surprise and if there's something I don't want one of my neighbors has taken it pretty quickly. Imperfect Foods has been a good balance of value for grocery delivery compared to Instacart especially with these bonus items.
Update 8/17/2020: I'm not sure what's going on with Imperfect Foods, but they keep sending me random items with my boxes. I keep getting what I ordered (minus things they cut from the order) plus a bunch of random things, like I don't know how you accidentally send me my exact order plus kombucha, milk, and cheese that I didn't order.
Update 5/9/2020: So I decided to restart using Imperfect Produce because it seemed like a nice supplement to get food delivered with the shelter in place warnings. Imperfect Produce is now called Imperfect Foods and has expanded the product lines to some dry goods (grains), dairy, meat and seafood.
In terms of cost, it looks like the box fee went away and everything is a-la carte so you don't need to sign up for the Meat & Seafood, Grains, or Dairy packs to actually get those things. Dairy, Meat, & Seafood is shipped inside an insulated box with an ice-pack. If you've done Blue Apron, it's basically the same set up. I think in terms of pricing and quality everything seems about the same as before when I wrote this article a couple years ago. In general, the pricing is fair-ish but not really cheaper when you account for the size and weight of the produce, but they are very consistent about delivering on time.
Original Review: I've been using Imperfect Produce which is a vegetable and fruit delivery service for the past few months. Imperfect Produce aims to reduce food waste by delivering ugly and surplus fruits and vegetables to your door.  I liked the mission statement, but after a few months I felt like most of the food I was getting was labeled 'surplus' and prices seemed to be less competitive.   Delivery to delivery, I would often buy basics like carrots and onions that were always labeled 'surplus,' but if they're available all the time are they really surplus?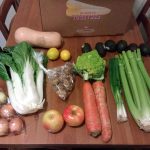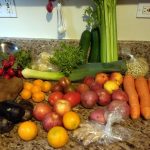 So I broke out my kitchen scale, and I tracked 4 deliveries (2 months worth!).  I compared the amount that Imperfect Produce sent me and priced out the equivalent from my local grocer.  Everything was compared against a direct replacement as best I could match.  To keep it fair, I also included the Box Fee ($3) and Delivery Fee ($5) that Imperfect Produce charges.
Here are the cost comparisons by delivery:
 
Imperfect Produce
Grocery Store
Savings over Store
Box 1
 $31.85
 $29.90

 $(1.95)

Box 2
 $32.78
 $28.13
 

$(4.65)

Box 3
 $33.76
 $6.57

 $(7.19)

Box 4
 $29.01
 $26.52

 $(2.49)
As you can see, Imperfect Produce has cost more than the grocery store on all of my boxes.  If you subtract out the box and delivery charge the prices of the actual produce and fruits are cheaper, but once you include the total cost Imperfect Produce really isn't a deal.
The actual produce usually looks pretty comparable to what is at the grocery store.  Some of the items (especially fruit) are often smaller than at the store, but really the most obvious things are like the carrots are almost always shaped like giant turnips and the onions tend to be either gigantic or tiny. Edit 1/4/21: Fruit has consistently been small and or bruised looking. I don't know why, but vegetables almost always are in pretty good shape but the fruit is usually not.
Items that saved the most:
| | | | | |
| --- | --- | --- | --- | --- |
| Item | Imperfect Produce Cost |  Store Cost |  Savings | % |
| Conventional Green Bell Peppers (2 ct) |  $0.99 |  $5.56 |  $4.6 | 82% |
| Conventional Avocados (12 ct) |  $7.74 |  $12.20 |  $4.5 | 37% |
| Organic Leek (2 ct) |  $4.67 |  $8.18 |  $3.5 | 43% |
| Conventional Parsnips (1.5 lb) |  $0.69 |  $2.30 |  $1.6 | 70% |
| Conventional Apples (3 ct) 1lb |  $1.88 |  $3.15 |  $1.3 | 40% |
Don't use this to save money.
If you are looking to get your vegetables delivered this is totally a viable option that doesn't cost much more than the store.  But keep in mind, you will generally end up paying more for the convenience of the having the box delivered. Selection varies week to week, so I do like using the boxes to try out different fruits and vegetables.  On top of that you'll be helping out to reduce food waste, although I'm not sure how much of those savings are offset by the delivery and non-reusable delivery box.
If you want to try out imperfect produce and live in one of the cities here's a link for your first Imperfect Produce box. As of this post, Imperfect Produce operates in many cities including:
San Francisco Bay Area, CA
Los Angeles, CA
Orange County, CA
Portland, OR
Seattle, WA
Chicago, IL
Indianapolis, IN
Milwaukee, WI
Grocery Delivery is Now Normal!
Added 1/4/21: Well with the times as they are now, I never thought that grocery delivery would be something that would be part of my normal routine. But here we are.
Imperfect Foods has some limitations compared to other grocery delivery companies. The grains, meats, and dairy selections are pretty basic, but I can feed my household on it so it works. The brands typically are more comparable to what you would find at Whole Foods or Sprouts, so it may be a little different than what you expect from like Kroger.
Compared to Instacart, the schedules are inflexible and you have to plan your orders days in advance. But on the other hand, I do find the total delivered to the door prices pretty comparable to Instacart and Shipt. Once you add in all the extra fees for a lot of competing delivery companies (tip, delivery, bags), the all in cost of Imperfect Foods starts to look pretty competitive (no tip, delivery fees are often waived if you spend enough).
I still stand by my original assessment that compared to in-store shopping, the savings really aren't there. But if we're comparing like-for-like Imperfect Foods is a very compelling option that I've started to use more of and would recommend as long as your ok with the selection, schedule, and don't expect to save much money.