Equifax has all of my salary history.   It's all in a 20 page packet detailing each paycheck that I've received since I was in college.  Yes, this is the same company that got hacked and leaked practically every Social Security Number to hackers; they also have information that I only thought the IRS had.
I got curious what data Equifax keeps and ran across the Work Number.   Employers–including all of my former employers–send Equifax salary history. Equifax takes this data and sells it to other companies who want to verify your income thru a service called the Work Number. You can request your own free report at the Work Number online, thru mail, or via phone. I couldn't figure out how to use the website–not surprised that their IT infrastructure isn't super updated.  So I printed the PDF and mailed them a letter. The report arrived a couple weeks later.
What's in a Work Number Report
The report is broken out into three parts. The first details an overview with an introduction and record of who has requested a report in the last 24 months.  The second part is a record of your income history; mine was especially detailed.  The third is a bunch of stuff on the terms and how to correct the records if they're wrong.
My data has been provided three times to two companies (Credit Karma and Chase) over the past 2 years.  This is what is looks like: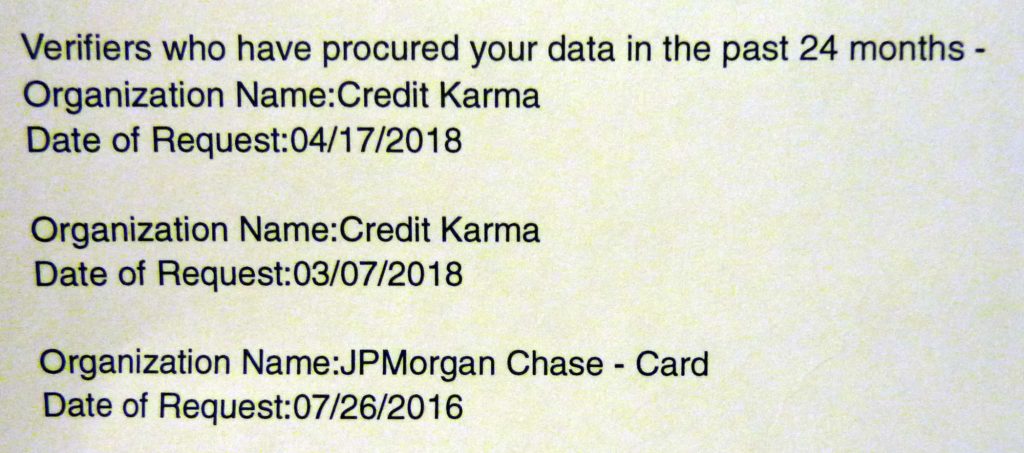 It's not entirely clear to me what employers or creditors can and can't see if they request the report.  I've never logged into the Work Number website to get a pin, but I must have clicked a button or signed off somewhere to give Credit Karma and Chase access to my data. That means whenever you agree to a background check by a potential employer, creditor, or landlord you could be also giving them permission to access your pay records that the Work Number sells.
Every pay check is listed in detail
The next 17 pages were a record of my employment history. It lists a gross and net record of each and every pay stub I have ever received as an adult.  The layout and information that is includes varies a little bit by employer, according to the Work Number each employer owns the data so they decide what they send.  My current employer has a pretty typical layout: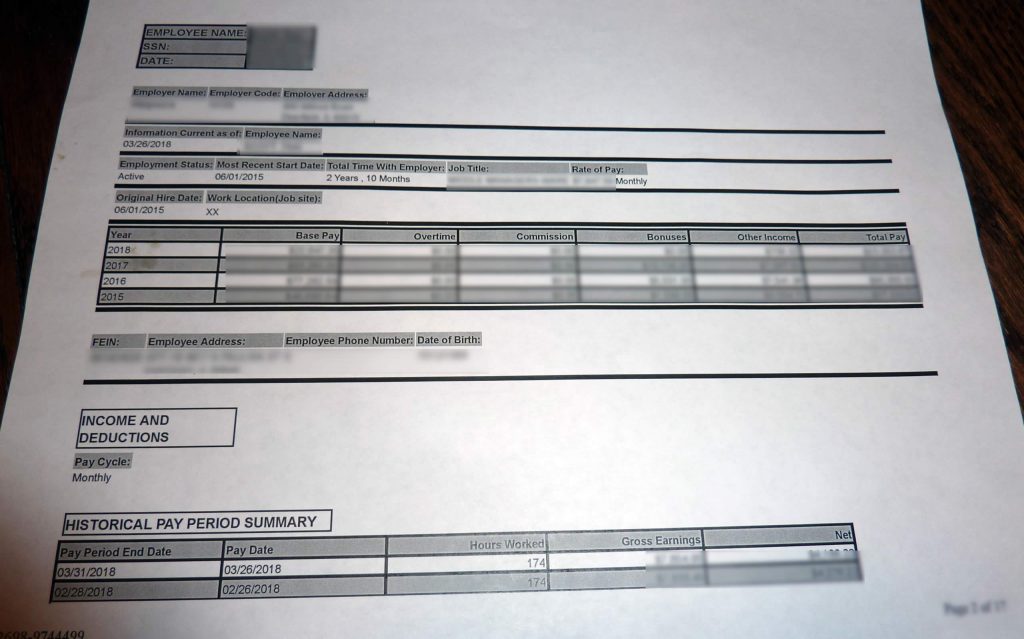 At the top you have employer info, role information, start and end dates.  Next is an annual summary of my income.  Then comes the unexpected part of a listing of every paycheck with the net and gross income. It is 100% accurate.  In fact, I think that these records are far more thorough and complete than anything I personally have been recording for the past 10 years.  When I requested the report, I never expected that this level of detail was being sent to and recorded by 3rd parties.
The report just goes on and on after this. Some of my former employers reported information about insurance, specific with-holdings.  Also, at least one employer only listed out my cumulative annual pay, but that was for an internship.
Be careful what you share
I see a lot of job search advice that says to fudge salary history, so that you can ensure that you get a raise for jumping ship, but keep in mind that this information is available and out there.  If you lie about what your compensation was at a previous employer, you could be found out.  So be careful with what you agree to, because your records are out there for companies who are willing to pay for it.
This report is 100% free, so I would definitely recommend requesting it at least once just to see what is in your file.