Compare your net worth against the wealth distributions of American Millennials, Baby Boomers, Generation X, and Generation Z.
Your net worth of
$0

would rank above:
Gen Z
27.67%
Millennials
23.1%
Gen X
8.45%
Baby Boomers
5.28%
Silent Generation and Older
2.08%
Share These Results :
These results are based off of individual samples from the 2016 Survery of Consumer Finances and are weighted to represent all American households. The SCF is known to be slightly biased towards higher incomes values, which the Federal Reserve attempts to correct for by adjusting the weighting of each individual response. Keep this in mind if the number of responses your output is based off of is low, or if you are looking at the tail ends of the data--like the top 1% or bottom 1%.
How to interpret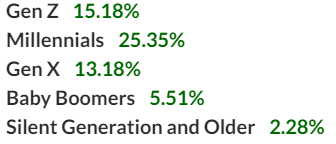 In this example of a net worth of $0, for Gen Z in 2016 you would rank above 15.18% of households in wealth, meaning that 15.18% of households would have less than $0 and 84.82% would have more than $0 in net worth. An important thing to keep in mind also is that the older generations are literally older as this is based off a survey of wealth taken in 2016, so they have had more years to work and it shows in the wealth distribution.
Generations Defined
Because this is using data from 2016, Generation Z has a very small sample size and may not be as representative as the other generations. I categorized each sample from the SCF based on the age of the head of household.
Generation Z: 19 years or younger. This data is very sparse and may not as reliable as the other age groups, since during the survey period most Generation Z people would be dependents of other households. Those Gen Zs who were independent and were sampled are likely not very representative. A better read of their wealth tracking should be available in the next publication of the SCF.
Millennial : Households 20-35 years old
Generation X: Households 36-51 years old
Baby Boomers: Households 52-69 years old
Silent Generation and Older: Households older than 70 years old
You may be wondering why the households 70+ show up as very wealthy, and I believe there may be some bias in that poorer people tend to die off earlier due to lack of healthcare and resources leaving a disproportionate number of elderly wealthy people. Overall for all Americans, by age 70, there is a 20-30% chance (depending on your gender) of dying before that age.
Net Worth Percentiles by Generation
Here is a table of the percentile rankings of how much wealth a household would need to rank at a certain percentile in their generation in 2016. Silent Generation and Gen Z have been excluded due to lack of horizontal space.
| | | | |
| --- | --- | --- | --- |
| RANK | MILLENNIAL NET WORTH (IN DOLLARS) | GEN X NET WORTH (IN DOLLARS) | BOOMERS NET WORTH (IN DOLLARS) |
| 90% | $183,590 | $807,500 | $1,895,700 |
| 80% | $87,850 | $398,900 | $853,610 |
| 70% | $48,910 | $223,900 | $464,500 |
| 60% | $25,000 | $146,901 | $303,200 |
| 50% | $12,200 | $85,270 | $188,500 |
| 40% | $5,650 | $42,000 | $116,900 |
| 30% | $1,020 | $17,930 | $56,180 |
| 20% | -$4,880 | $4,470 | $16,780 |
| 10% | -$26,250 | -$3,990 | $1,880 |