Rank your income to specific age groups to see if you're in the 1%, to see where you stand today, or to see where you project yourself to be in the future. Read more about the households that make up the top 1% by income earnings.
Simply add up your households annual income, such as your salary, your spouse's salary, bonus, business income, and windfall events, then enter it into the calculator. The age ranges are based off of the age of the head of household, who is typically the primary income earner. The way that the age ranges work is to limit the results to the age groups that you are interested in comparing yourself to, so that the results are more relevant. So for example, if you are 35, I would recommend setting the minimum to 30 and the maximum to 40. The calculator will then update to show only the household incomes of households with heads within that age range.
Scroll up to enter changes to your income.
Percentile Rank :
An income of $0.00 for ages 18 to 100 ranks at the
0.28%Median Income :
$52,657.09
Mean Income :
$102,123.00
Income 25th - 75th Percentile Ranges :
$27,341.18 to $98,225.73
Income Percentiles by Age
For reference, here is how much a household would have to earn to rank at certain percentiles between the ages 18 to 100.
| Percentile | Income (in Dollars) |
| --- | --- |
| 90% | $177,211.37 |
| 80% | $111,390.01 |
| 70% | $86,074.10 |
| 60% | $67,846.64 |
| 50% | $52,657.09 |
| 40% | $41,518.09 |
| 30% | $31,391.73 |
| 20% | $23,290.64 |
| 10% | $15,189.55 |
Percentiles show the ranking of a particular income result. So a 90% (ninetieth percentile) means that out 100 people the household ranked 90th would have an income of around $15,189.55.
Income Visualizations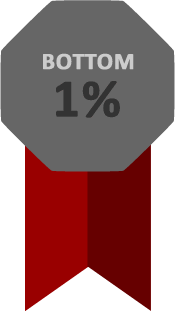 This is where your income would rank if there were 100 households within the nation who's head of households were between the ages of 18 to 100. 99 households would be have higher incomes than you. 0 households would have lower incomes than your household.
Common Income Percentile Searches
Income Comparison for Ages 30 to 40
Income Comparison for Ages 30 to 35
Income Comparison for Ages 25 to 30
Income Comparison for Ages 25 to 35
Income Comparison for Ages 40 to 50
Income Rank for $200,000.00
Income Rank for $100,000.00
Income Rank for $150,000.00
Income Rank for $120,000.00
Income Rank for $250,000.00
Share These Results :
These results are based off of 6248 individual samples where the head of household was age 18 to 100 and are weighted to represent 125981700 American households. The SCF is known to be slightly biased towards higher incomes values, which the Federal Reserve attempts to correct for by adjusting the weighting of each individual response. Keep this in mind if the number of responses your output is based off of is low, or if you are looking at the tail ends of the data--like the top 1% or bottom 1%.
The numbers are based off of the results of the 2016 Survey of Consumer Finances by the Federal Reserve. I used R to separate one of the five imputations with the sample replicatant weights from the Federal Reserve. If you want to do your own analysis check out the raw data, and also check out this guide on how to import the data into R http://www.r-bloggers.com/analyze-the-survey-of-consumer-finances-scf-with-r/. The number of samples per age vary quite a bit, so you might get unusual results for certain ages.
Income Related Posts
Update: September 2017, The data is now updated with data from 2016! Median income has risen 10% from 2013 to 2016. Some of the age ranges look a little more irregular than usual, so I will be on the lookout for any additional updates from the Federal Reserve. As of 2/24/2018 there have been no updates to the data that was published.
Update: April 2019, incomes appear to be growing faster than inflation for the past few years. If you use this data to compare your current income to the distribution, it will probably be safe to assume that your percentile rank is slightly lower.
Looking across the data, young adult incomes (adjusted for inflation) have been flat over the past generation, but debt is increasing.