Stores plan on you not redeeming store points/dollars/rewards that they offer. So don't let them trick you when shopping this Black Friday and Holiday season with deals that sound better than they actually are.
Every store seems to have it's own loyalty program that has a version of points, dollars, or rewards where you pay up front for a deal and they give you back the points for your next purchase. Retailers love to do this, because they get your money up front instead of offering a more traditional discount promotion where you get the savings instantly.
How to value Retail Loyalty Points and "Dollars"
Retailers have a concept called breakage:
Breakage: Is the percentage of points earned by customers that are never redeemed.
According to the Customer Insight Group 30% of retailer points is a fairly normal number for points to go unredeemed. One way to think about it is that stores plan to never have to pay out for a large portion of the points they give out. They could offer out points with the 'value' of $10 but only have to plan on paying out $7.
The breakage rate varies depending on a lot of factors that I'm sure you've experienced when trying to use these programs:
The points will expire quickly.
They need to be spent in large amounts.
Numerous restrictions on what can be purchased.
Hard to redeem.
When you look at the value that the store tells you, think about how likely you are to actually spend it. Also remember if the store values the points at 70% of face value–or even less–you probably should too.
Examples of Egregious Point Offers
The more onerous the terms; the higher the breakage. You see offers like this Sears '100%' cashback on $250, with terms like: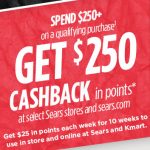 Points are valid for 7 days
$25 points per week for 10 weeks
Points have no cash value
Terms can change at anytime
This is one of the more obvious rip offs, but I'm sure that there are a few of you out there could make this deal work if you happen to live next to the last Sears or Kmart with the lights still on.
Their terms bring up a lot of great examples of how retailers abuse point systems.  Because the retailers own the system of points, they can issue as many as they want. If they happen to over-estimate the breakage rate–meaning they made it too easy to redeem the deals– they can simply devalue their points or create new policies to increase the breakage rate.  You see this a lot in programs that reduce the amount of time you have to use the points, increase restrictions, or increase redemption minimums.
Points can be worth it, but beware.
There are a lot of programs out there that are worth it, but it 100% depends on your personal habits.  If it's a store you go to frequently the loyalty programs are great ways to save and shop more.  But you need to watch out the offers to stores that you rarely frequent, because those are the most likely to not pay off.
Just to recap good programs will be:
Places you normally shop
Long expiration date (1+ year)
Flexible redemption amounts
Clear point to product valuations
Bad programs will be like:
Short expiration cycles
Multiple point/"dollar" types for the same store
A store you rarely go to
Long lists of product exclusions
Hard to manage rewards like papers
Confusing