Recently I've been on the house hunt, and Redfin and Zillow have been great resources at trending home values and seeing how prices have changed as homes are sold over the years–the before and after pictures are my favorite.  Sometimes though, if a home hasn't changed hands in the last 15+ years, Redfin and Zillow might have incomplete transaction history.
My SO and I live in Chicago in Cook County, Illinois, and we can search the County's Recorder of Deeds website for past transaction history.  Unfortunately, Cook County's search doesn't search by address, so I'm going to share a few quick instructions to using it. Depending on your county, you may have an easier time finding transaction history.  All of this information is 100% public, just not always easily accessible.
Find the Property's Redfin Profile Page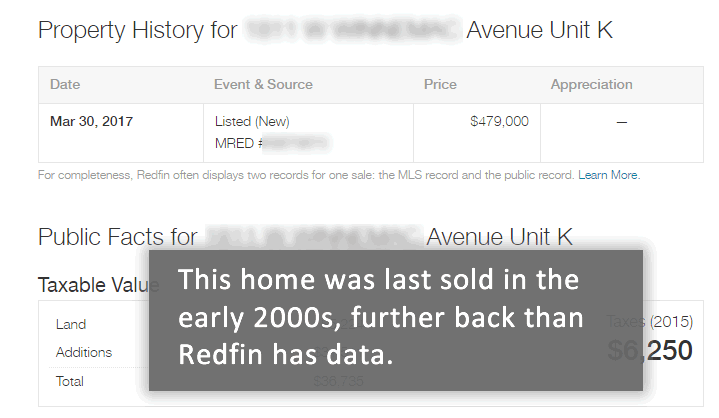 Here's an example of missing data.  This home was built in the late 90s, and was last sold in the early 2000s.  For whatever reason, Redfin only shows the most recent listing in the property history.   Sometimes Zillow will have more information, but in this case Zillow also showed nothing except for the listing.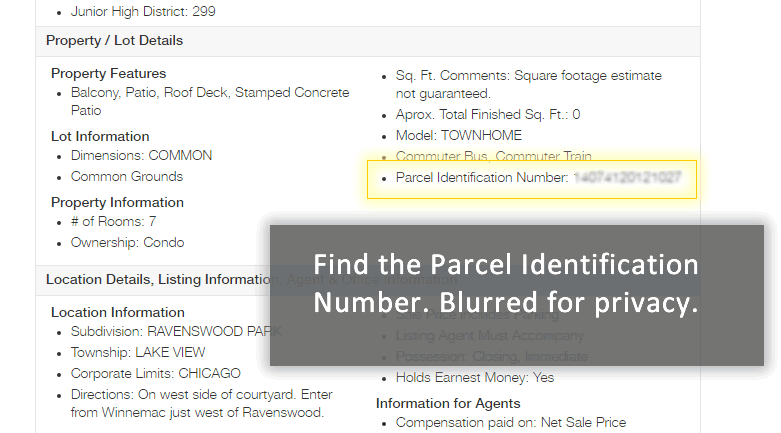 Cook County's Recorder of Deeds uses a Property Identification Number (PIN) to search for transactions related to properties and deeds.  If you don't live in Chicago/Cook County, you may still need the PIN or you might be able to search by address.  The PIN is found under the Property Details with in subsection Property / Lot Details.
Find out who Keeps records of deeds
So this is going to be the most confusing part.  Depending on which state you live in, you're going to need to find the local government office that handles deeds.  This could be the Register of Deeds, Recorder of Deeds, County Auditor, County Clerk, etc.  Usually it is on the county level.
For me, it's the Cook County Recorder of Deeds.

Once you find out where to go.  Search for the property using the PIN from Redfin or address depending on the system.
My county's page will pull up a ton of different real estate related transcations.  Your county might show more, less, or have a different format.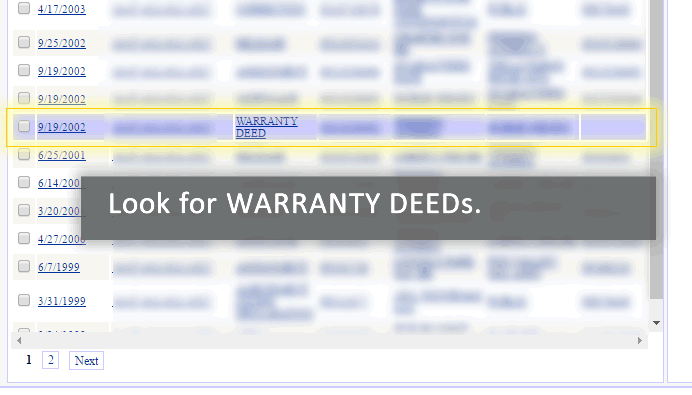 In my county, the Warranty Deeds are the important ones.  The amounts listed on these deeds match up with the past sales on Redfin and Zillow.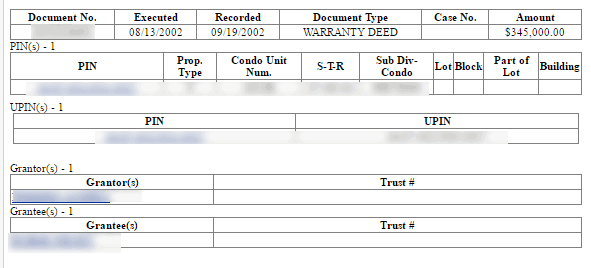 Ta da!  Success! This property was last sold for $345,000 14.5 years ago.  I really like adjusting past sale prices with inflation to see how the home's price has changed compared to inflation. Usually, I like to use the Bureau of Labor Statistics CPI calculator.  Adjusting for inflation, that home last sold for $467,165 2017 dollars, so the current listed price just barely outgrew inflation.
Share in the comments if you had to change some of the steps for your local area!