Ever since I graduated college, I've lived in states far away from my parents.  So, if I wanted to go home for the holidays, I had to make a plan so that I could still meet expectations at work, and avoid breaking the bank. Here are a few of the tips that I've learned along the way.
Tip 1: Use Google Flights
My favorite flight comparison website is Google Flights.   Not only do they do a good job at showing the lowest prices for that ticket, it's also really easy to figure out the cheapest times/days for your flights that would work in your schedule.  The only downside is that Southwest flights aren't part of the search.
One of the best features are their calendar views.  If you click where the yellow cursor is (right in one of the date selection boxes) another set of options will pop up.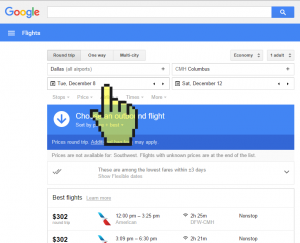 You'll first see the calendar view, which shows you the cheapest days to depart if you were to shift the start of your vacation to that date.  So if you initially searched for a departure and return flight that were a week apart, the calendar will show you the best prices for departures and returns a week apart.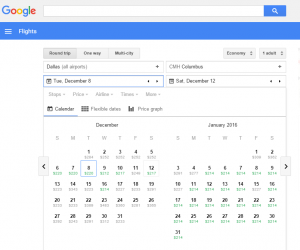 The next view is the price graph which gives you a nice representation for how the prices are trending.  I use this to figure out the absolute lowest price the flight goes for before deciding if I'm going to wait and chance it or buy a ticket now.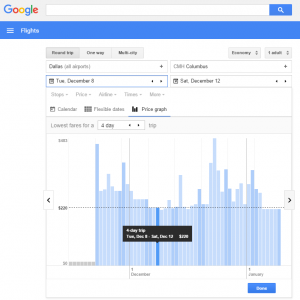 In general, prices are pretty erratic 2-6 months out, so if you check the prices pretty frequently, you might get a deal.   Once you wait till 1 month or less, the prices are pretty stable but trend up the longer you wait.
Tip 2: Book a Refundable Southwest Ticket and then check Google  Flights every single day.
The standard Wanna-Get-Away Southwest ticket is refundable for an equal flight credit which will expire. So if you want to lock in a ticket just in case the flight prices skyrocket, you can book a flight with Southwest and keep checking Google Flights to see if something better pops up.  You should really only do this, if you'll fly enough to use the credit before it expires.  It's way better if you use Southwest reward miles instead of money,  since those are 100% refundable.  So if you cancel your flight you won't incur any penalties or limitations.
Tip 3: Try the Bus or Train
If you don't like driving long distances, buses and trains are an option.  I personally would not do this if it involves a transfer or is longer than 8 hours.  The buses that I have ridden have had wifi, built in outlets, and comfy seats so it's about as comfortable as flying.  Amtrak has way more comfortable seats than most airlines, but most of their trains lack wifi or outlets.
Tip 4: Get Airline Points
If you're planning 6 months ahead, you could try to get an airline rewards credit card.  Many airline credit cards have sign on bonuses of 40,000 – 50,000 points for meeting a minimum spend of a few thousand dollars within the first few months of getting the card.  It takes time for you to receive the points, so you have to start the process early enough in the year so that you can use them for holiday travel.  I would check out the subreddit /r/churning for more information on which cards are the best.
Good luck, and happy holidays! If worst comes to worst, you can always rent a car.